Main content starts here, tab to start navigating
Menus
Allergy statement: Menu items may contain or come into contact with WHEAT, EGGS, PEANUTS, TREE NUTS, and MILK. For more information, please speak with a manager.
Pricing may not be up to date. For updated pricing use our online ordering platform.
Order Online!
The Chesterfield Burrito

Filled with pork carnitas, chipotle dressing, rice, and beans. Topped with cheese sauce and crumbled homemade chorizo, pico on the side.

$14.99

Tacos De Carnitas (3)

Very tender braised pork on soft corn tortillas. Side of beans, cilantro and onions or pico as topping. Spicy tomatillo sauce on the side.

$12.75

El Guapo Burrito

Filled with gualil to marinated chicken, roasted poblano peppers, chipode dressing, cream, corn pico, rice, and black beans. Topped with fresh avocado, corn pica, and cheese.

$14.99

Fish Tacos (3)

Pan soared maple on soft corn tortillas. Cabbage pito and chipode dressing on the side. Rice and beans as a side.

$13

Enchiladas Rancheras

Two cheese enchiladas topped with shredded pork carnitas, peppers, onions, and tomatoes. Served with a side of rice and salad.

$12.75

Texas Fajitas

Grilled steak, chicken and shrimp with peppers, onions, and tomatoes. Rice, beans, guacamole and sour cream on the side.

$17.75

Tierra y Mar

scallops, Shrimp, chicken/ red peppers, Zucchini, onions, Smothered with cheese sauce, served w/ rice and tortillas

$16.99

QUESABIRRIA TACO

(3) corn tortilla Tacos filled with Beef birria and Cheese. topped with Cilantro and onions. served with sauce on the side and beef consomme for dipping

$13.25

Gipsy Quesadilla

Large quesadilla filled w/ bacon, guajillo chicken, pineapple, cheese, cilantro and onions served with rice and black beans.

$13
BLT Shrimp Tacos (3)

Marinated shrimp served on soft corn tortillas topped with bacon, fresh avocado, romaine lettuce tomato, and chipotle dressing. Served with rice and beans.

$13.25

Veggie Tacos (3)

Spicy mix of veggies served on soft corn tortilla topped with cream, black beans. Feta cheese and cilantro. Side of rice and beans.

$12.75

Diabla Shrimp

Pan seared and drowned in our spicy diable sauce. Served with rice and a small salad.

$13.95

Steak & Shrimp

8 oz. ribeye seared on a cast iron skillet and chargrilled. Topped with marinated shrimp, peppers, tomatoes, and onions. Served with rice and beans.

$17

Chilaquiles Campechanos

Pork carnitas, homemade chorizo, cheese, diabla sauce, fresh avocado.

$13
Appetizers
Bean Dip

$5.99

Guacamole Dip

4 oz.

$2.99

Chori-Dip

$8.50

Chicken Wings (6)

$6.50

Cheese Dip

8 onz

$4.75
Nachos with Cheese

$5.75

Nachos with Chicken

$7.99

Nachos with beef

$7.99

nachos with beans

$7.99

nachos with carnitas

$10

nachos with chorizo

$8.95
Nachos Fajitas

$10

shripm $1.95

Nachos with beef and Beans

$8.99

Nachos with Beef and chicken

$8.99

Nachos Super

with chicken or beef, lettuce, sour cream, guacamole, tomato, shredded cheese, and chopped onions.

$10.99

Steak or grill chicken $2
New Ranchero Salad

Your choice of steak of chicken, romaine lettuce, tomato, carrots, cheese, tortilla strips, sour cream, and pico de gallo.

$10.95

Srimp $1.50

Taco Salad

Flour tortilla bowl filled with ground beef or shredded chicken., cheese, beans, lettuce, tomato, guacamole, and sour cream.

$10

Steak or grill chicken $1.95

shrimp $2.50
All bowls are topped with a dash of cilantro and tortilla strips.
Lunch is serves from 11:00 am to 4:00pm
Lunch
Speedy Gonzales

Taco, enchilada, choice of rice or beans.

$7.95

Special Lunch #1

Chile Relleno, Taco, Beans, and Guacamole Salad.

$8.75

Special Lunch #2

Burrito, rice and beans.

$7.99

Special Lunch #3

Enchilada, Rice and Beans

$7.99

Special Lunch #4

two chicken enchiladas w/shredded cheese, rice and chopped onions.

$7.99

Special Lunch #5

Burrito, taco with choice of rice or beans.

$7.99

Special Lunch #6

Two enchiladas, rice, topped w/lettuce, sour cream, and tomato.

$7.99

Special Lunch #7

Enchilada, Chile Relleno and Rice.

$7.99

Special Lunch #8

Burrito, tamale, and choice of rice or beans.

$7.99

Special Lunch #9

Burrito, enchilada and choice of rice or beans.

$7.99

Special Lunch #10

Chalupa, enchilada, and cheese quesadilla.

$7.99

Huevos con Chorizo

Two scrambled eggs w/homemade Mexican Sausage served with rice beans and tortillas.

$8.75

Lunch Carne Asada

Lunch portion of Grilled Sirloin server with beans guacamole salad and tortillas

$9.99

Lunch Burrito Chucho

One burrito filled with shredded beef, topped with Nacho Cheese, lettuce, tomato, and sour cream, served with rice or beans.

$9.50

Lunch Fajitas

(Steak, chicken or mixed) A lunch sized portion of sizzling fajitas, served w/rice, beans, and tortillas.

$10.75

Add Cheese and Sour Cream $1

Fried or Soft Chimichanga Beef/Chicken.

Topped with Guacamole Salad and choke of rice/beans chicken or beef

$9.50

shrimp $2

Quesadilla Rellena

Cheese quesadilla filled with shredded beef served with guacamole salad and choke of rice or beans.

$8.99

Taco Salad

Flour tortilla shell filled with beef or chicken, cheese, beans, lettuce, tomato, guacamole, and sour cream.

$10

Lunch Carnitas

A lunch sized portion of Pork chunks cooked golden brown delicately seasoned w/our special spices served with rice, beans, and tortillas.

$9.75

Lunch Pollo Asado

Lunch sized portion of grilled chicken w/grilled onions, on top, served with beans, rice and tortillas.

$9.75

Lunch Pollo Loco

Lunch sized portion of grilled marinated chicken served with beans, rice and tortillas.

$9.75

Lunch Chori pollo

Lunch sized portion of grill chicken and Homemade Mexican Sausage Topped with cheese Sauce served with beans, rice and tortillas.

$9.99
Lunch Burrito Fajita

One burrito, choke of steak or chicken, topped with nacho cheese, lettuce, tomato, and sour cream and choke of rice or beans. (Steak or chicken)

$9.75

Lunch Tacos de Carne Asada

Two soft corn tortillas filled with grilled steak, served with tomatillo sauce, pico de gallo and beans.

$9.50

Lunch Tacos Al Pastor

Two soft corn tortillas filled with grilled steak marinated with AI Pastor Sauce, served with tomatillo sauce, pico de gallo and beans.

$9.50

Lunch Texas Fajitas

Mix of chicken, steak & shrimp. Side of rice & beans.

$12.95

Add cheese and sour cream. $1

Arroz Con Pollo

Grilled chicken on bed of rice, smothered in cheese sauce.

$9.75
Steak
Grilled Marinated Sirloin

Rice, nelson's pinto beans, Romaine lettuce, Guacamole, sour cream, shredded cheese, pico de gallo.

$9.99
Shrimp BLT Bowl
Grilled Marinated Shrimp

Bacon, rice, nelson's pinto beans', romaine lettuce, tomato, avocado, sour cream, shredded cheese, chipotle dressing.

$9.99
Chicken Bowl
Guajillo Marinated Chicken

Roasted poblano peppers, rice, nelson's pinto beans, romaine lettuce, guacamole, sour cream, shredded cheese, corn pico de gallo.

$9.99
Vegetarian Bowl
Quinoa

Black beans, apple pico de gallo, smoked gouda, spicy siracha sauce, avocado fresh spinach.

$9.50
Carnitas Bowl
Pork Carnitas

Rice, nelson's pinto beans, romaine lettuce, guacamole, sour cream, shredded cheese, pico de gallo

$9.95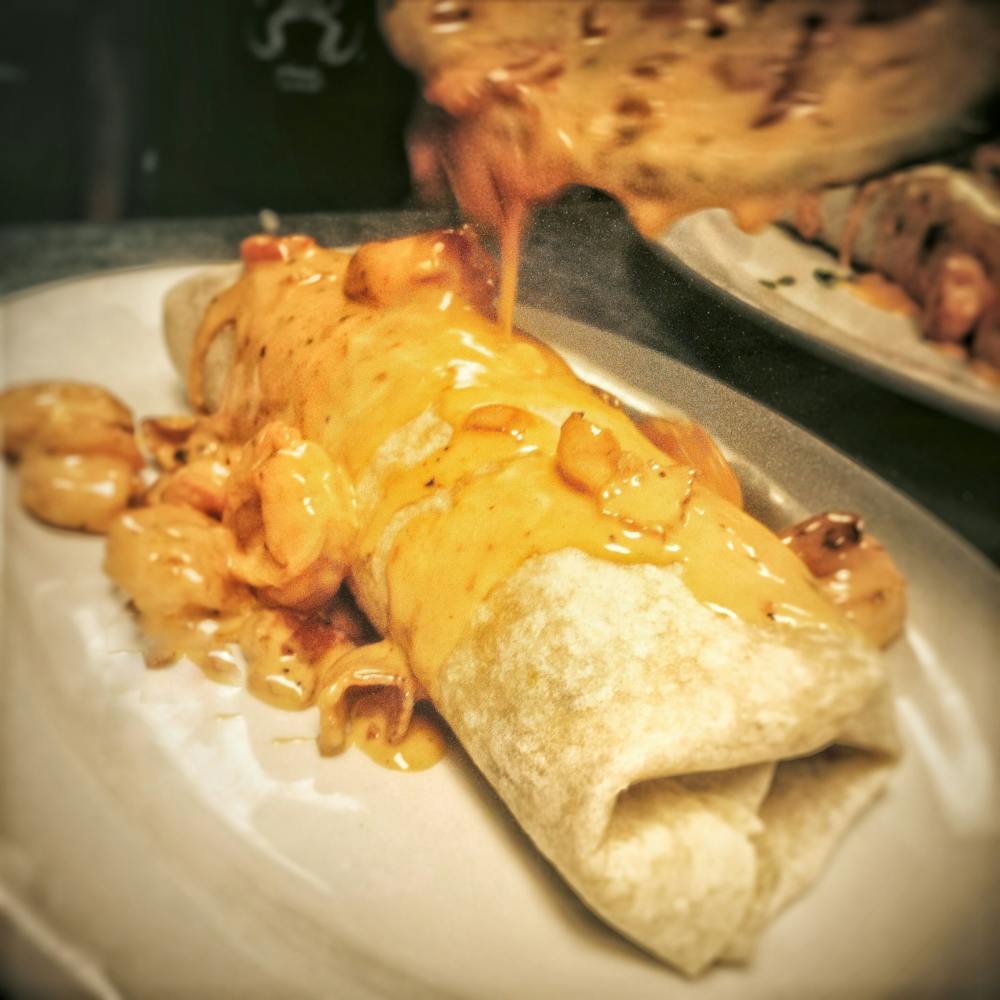 Burritos
Burrito Grande

A large grilled steak or chicken burrito, filled with rice and beans and topped with cheese sauce and pico de gallo on the side.

$11

Burritos Pablin

One burrito filled with grilled chicken, topped with nacho cheese, served with rice and pico de gallo.

$9.75

Burritos Deluxe

Two burritos, combined, one chicken & bean, one beef and bean, topped with lettuce, tomato, sour cream and your choice of rice or beans.

$10.99

Burritos Fajita

Two burritos choice of grilled steak or chicken, covered with nacho cheese, lettuce, tomato sour cream and your choice of rice or beans.

$12
Specialty Burritos
El Guapo

The fill, grilled marinated chicken, roasted poblano peppers, corn pico de gallo, rice and black beans and chipotle cream, the top: fresh avocado and cheese sauce.

$13.99

The Chesterfield

The fill, slow-cooked pork carnitas, rice, black beans, and creamy chipotle sauce. The top: cheese sauce and homemade chorizo. On the side; fresh pico de gallo.

$13.99

El Fabuloso

The fill; Marinated grilled carne asada steak, fresh avocado, roasted blonde pepper, rice, beans and nelson's "four pepper" salsa. The top; Cheese sauce. On the side; Romaine lettuce topped with sour cream and fresh guacamole.

$13.99

Burrito Del Mar

The fill; Marinated grilled shrimp, bacon, red bell peppers, onions, rice, and black beans. The top; Shrimp au jus cheese sauce. On the side; fresh avocado salad.

$14.99

The Goatocado

The Fill; Potato casserole, black beans, avocado, smoked gouda cheese, fresh zucchini, fresh spinach, chipotle dress-ing and spicy sriracha sauce. On the side; Fruit cup with spicy tajin power.

$12.99
All Fajitas Are server with rice, beans, lettuce, guacamole ,sour cream and tortillas
Fajitas
Texas Fajitas

Tender steak, chicken, and shrimp.

$17.25

Del Mar Fajitas

Special fajitas with shrimp and scallops.

$17

Fajita Chihuahua (Cheese lovers)

Grilled chicken and Homemade Mexican Sausage Smothered with Cheese sauce.

$17.95

Fajitas Vallarta

Grilled Steak, chicken and Homemade Sausage.

$16.95

Fajitas Steak , Chicken Or Mix

$15.25
Mushroom Quesadilla Salad

Two quesadillas filled with mushrooms, and cheese, served with lettuce, tomato, sour cream, and guacamole.

$10.95

Quesadilla Del Mar

Quesadilla filled with grilled shrimp and vegetables served with guacamole salad, sour cream, and tomato.

$12.75

Quesadilla Veracruzana

Two quesadillas filled with cheese and shredded beef served with guacamole salad and rice.

$12.50

Gipsy quesadilla

Beef birria/ mazzarella cheese/ onions and cilantro.cucumber pico/ habareno sauce and consomme for dipping.

$13
Quesadilla Ranchera

One large quesadilla filled with grilled tomato, onions, and peppers, your choice of grilled chicken or steak and salad with guacamole and sour cream.

$12.50

Quesadilla Rellena

A grilled flour tortilla stuffed with cheese, shredded beef , and refried beans, served with guacamole salad, and sour cream.

$11.50

Quesadilla De Chorizo

Two quesadillas filled with cheese and homemade Mexican sausage served with bean and guacamole salad.

$11.75
Enchiladas Supreme

Four enchiladas, one beef, one cheese, one bean and one chicken topped with lettuce, tomato, and sour cream.

$10.75

Enchiladas Verdes

Three rolled corn tortillas filled with shredded beef, topped with our special tomatillo sauce served with rice, lettuce and sour cream.

$11.25

Queso Enchiladas

(Cheese Lovers) Three chicken enchiladas, smothered with cheese sauce topped with lettuce, sour cream, and tomatoes, served with a side of rice.

$11.95
Enchiladas Rancheras

Two cheese enchiladas filled with shredded pork, cooked onions, and bell peppers, served with rice and guacamole salad.

$12.50

Cheesie Supreme Enchiladas

(Cheese lovers)

$12.50
Carne Asada

Grilled sirloin served with beans, rice, guacamole, salad, and tortillas.

$15.50

Steak ranchero

Grilled ribeye steak, covered with ranchero sauce, server with rice, beans and tortillas*

$16

Steak pepe

Grilled ribeye steak w/ onions, bell peppers, and mushrooms, server with rice, beans and tortillas*

$16

Steak & Shrimp

Grilled ribeye steak topped with grilled shrimp, onions, bell peppers, and tomatoes, served with rice, beans, and tortillas*

$17.50
Fish Tacos

Three soft corn tortilla tacos filled with panned tilapia. Cabbage pico slaw and chipotle dressing on the side. Side of rice and beans.

$13.25

Huevos con Chorizo

Homemade Mexican Sausage with two scrambled eggs, served with rice, beans, and tortillas.

$9.95

Pollo Loco

Marinated Grilled Chicken served with rice, beans, and tortillas.

$11.50

Tacos De Carne Azada

Three folded soft corn tortillas filled with grilled steak, served with tomatillo sauce, pico de gallo and a side of beans.

$12

Tacos de Carnitas

Three soft corn tortillas stuffed with tender chunks of pork, cooked, golden brown with our secret herbs and spices, served with beans, pico de gallo and tornatillo sauce.

$12

Cazuelon Extra

Grilled steak, chicken and shrimp, served with beans, rice, pico de gallo and tortillas.

$16.95

Chile Verde

Cooked pork with green tomatillo sauces, served with rice, beans, tortillas.

$12.75

Chilaquiles Mexicanos

Fried tortilla blend with special homemade ranchero sauce, topped with chicken or beef tips and cheese served with rice or beans and guacamole salad.

$11.25

Arroz Con Pollo

(Cheese lovers) Grilled chicken breast strips, smothered with cheese sauce, served with rice, and tortillas,

$11.95

Grilled Taco Salad

Grilled steak or chicken served in a flour tortilla shell, served with cheese, beans, lettuce, tomato, guacamole, and sour cream.

$11.25
Carnitas

Pork chunks cooked golden brown, delicately, seasoned with our secret spices and herbs, served with rice, beans, and tortillas.

$12.50

Pollo Asado

Tender grilled chicken topped with grilled onions served with rice, beans, and tortillas.

$12

Chori - Pollo

Grilled chicken and homemade mexican sausage, topped with nacho cheese, served with rice beans and tortillas.

$13.75

Tacos al Pastor

Three soft corn tortillas stuffed with tender strips of steak with AI pastor sauce, served with refried beans, pico de gallo and tomatillo sauce.

$12

Cazuelon

Grilled steak and chicken, served with rice, beans, pico de gallo and tortillas.

$13.95

Diabla Shrimp

Grilled shrimp marinated in our special Diablo Hot Sauce, served with rice, salad tortillas.

$12.95

Taquitos Mexicanos

Four deep fried rolled cam tortillas, stuffed 2 chicken and 2 beef, served with rice, lettuce, guacamole, and sour cream and tomato.

$11.25

Chimichangas

Two flour tortillas, soft or fried, filled with your choice of beef tips or chicken, covered with nacho cheese, served with beans and guacamole salad.

$11.95
Order of Rice Beans

$2.25

Chile Relleno

$3.50

Burrito

$3.75

Enchilada

$2.50

Tacos. Soft or hard shell

Your choice of beef or chicken.

$2.50

grill chicken, steak, carnitas or Chorizo $1.50

Shrimp $1.95

order of shripm

$4.25

guacamole salad

$3.50

crema sala

$2.25
Cheese Quesadilla

$2.50

Add beef, chicken or mushroom $0.50

add grill chicken or steak $1.95

Special Burrito

Beef or chicken w/lettuce & sour cream.

$4.50

Taquitos

Your choice of beef or chicken.

$2.95

Sour Cream

$0.75

Pico de Gallo

$1.25
All combinations are $10.25
#1

Two Enchiladas, One Taco Rice & Beans

#3

One Enchilada, One Taco, Chile Relleno and Rice

#7

Enchilada, Chile Relleno, Rice and Beans

#9

Two Tacos, Rice and Beans

#13

Burrito, Taco, Rice and Beans

#15

Chile Relleno, Burrito, Rice and Beans

#17

Burrito, Enchilada, Rice and Beans

#5

One beef and one cheese enchilada rice and beans

#4

Taco, enchilada, beef and cheese tostada, and rice
#6

Enchilada, Taco, Rice and Beans

#10

Burrito, Taco and Enchilada

#11

Burrito, chile relleno and beans

#14

Burrito, Taco and Chile Relleno

#16

Two Chicken Enchiladas with Lettuce, Sour Cream, Rice and Beans

#18

Burrito, Enchilada and Chile Relleno
Vegetarian
The Goatacado Burrito

Large burrito filled with potato casserole, black beans, avocado, smoked gouda cheese, romaine lettuce, chipotle dressing, and spicy sriracha sauce.

$12.50

Veggie Tacos

Spicy mix of veggies served on soft corn tortillas topped with sour cream, black beans, feta cheese, and cilantro. Side of rice and beans.

$12

Veggie "C"

Bean burrito w/nacho cheese, cheese enchilada and one quesadilla.

$10
#1 One Taco, Rice & Beans

$5

# 2 one beef enchilada Rice and beans

$5

#3 cheese quesadilla and rice

$5

#4 hamburger with fries

$5

#5 chicken finger with fries

$5
Desserts
Sopapillas

Flat puffy pastry pieces topped with honey and cinnamon.

$4.50

Fried Ice Cream

French vanilla ice cream, fried, covered with crunchy rice crispies, whipped cream and chocolate syrup.

$5.50

Churros

A tasty Mexican Pastry w/sweet cinnamon.

$4.50

Flan

A delicious Mexican style custard served in it's own syrup.

$4.50

Xangos

Creamy cheesecake, wrap in a pastry tortilla, fried until flaky and dusted with cinnamon-sugar.

$4.50

Choco Chimichanga

Flour tortilla wrapped around a deep-fried chocolate bar served with a scoop of ice cream.

$4.50

Choco flan

$4.95
Non-Alcoholic
Coca-Cola

$3.25

Shirley Temple

$3.25

Fresh Lemonade

$3.25

Coffee

$3.25

horchata

$4.25

jamaica

$4.25

tamarindo

$4.25

jarritos

tamarind, lime, strawberry, mandarin, jamaica, pineapple.

$3.35
Alcoholic
Imported Beer

Corona, Corona Light, Dos Equis ambar, Dos Equis Lager Tecate, Victoria, Negra Modelo, Pacifico, Modelo Especial, victoria

$4.25

Sangria

$4.25

Domestic Beer

Miller Lite, coors light, michelob ultra, heineken, bud light,

$3.50
Margaritas
Margarita

12 oz.

$5.50

Texas Margarita

12 oz.

$6.50

Jumbo Texas Margarita

21 oz.

$9.50

Jumbo Margarita

21 oz.

$8.50

12 oz spicy margaritas

$6.49

21 0z spicy margarita

$9.99

16 0z fresh squeeze margarita

$8.95

21 0z fresh squeeze margarita

$12.95

micheladas

$8.95

House tequila

$4.25